Nissan Certified Pre-Owned
Benefits Include:
7-Year/100,000-Mile

Limited Powertrain Warranty

7-Year/100,000-Mile

Roadside Assistance Coverage

167-Point Inspection

Genuine Nissan Service & Parts
Plus More...
View Certified Vehicles
Get Approved
Need help financing the car you've always wanted? We can help! We work with multiple lenders and will help get you the best loan possible.
Apply Now
Our Reviews
From start to finish I was made to feel extremely comfortable with the buying process. Tyler, my salesperson, and Brandon, the sales manager, made sure that all of my needs were met as far as the car I was purchasing and the financing. I would highly recommend Coastal Nissan to anyone!
I wrote probably won't buy. Because I had a Malibu and I am thinking of going back to Chevy.But this Nissan dealership has been great.
The short story is - Coastal Nissan went above and beyond my expectations to help me. I have been going to an out of state Nissan dealership for service for 5 years. My motto is that if you are honest with me, keep my car in good repair, and treat me with respect, you will have my business. I am a loyal customer. If you are interested, here is the long story: Three things to know: 1. I am a female, over 65 years old. 2. I travel up to 1,000 miles a month, often alone and on back roads. 3. I cannot have my car breakdown and keep it serviced. I just had my car serviced at my Nissan dealership in another state. I specifically asked them to check my battery. So, when my car wouldn't start in Pawleys Island after filling up with gas, and all the lights on the dashboard were flashing, I had no idea what the problem could be. I was leaving town (alone) the next day and was frantic that something was seriously wrong with my car. With the help of a stranger, we discovered it was my battery. I called Coastal Nissan for help. I cannot imagine what I sounded like - from a sane person's point of view I had a dead battery. From my point of view, I was frantic and angry that I was in a situation that I worked hard to avoid. Everyone at Coastal Nissan was exceptional. The lady on the phone was so kind. She understood my plight, got me an appointment, and assured me that they would take care of the problem. Upon arriving at Coastal Nissan, the service man was great - friendly, professional, and I had no doubt I was in good hands. I can buy a car anywhere. What I base my decision on is what kind of service can I trust and depend on. Coastal Nissan will have my business.
We traveled over an hour and a half to buy from Coastal Nissan. Wow! What a breath of fresh air buying from these folks! Our saleman Braxton was so lovely to deal with. Such professionals (i even eavesdroped on the saleman next to us). The dealership itself is really nice also. Will definitely buy from them again.
Firstly, in explanation of my response that I "probably will not purchase car from this dealership", I'm 72 yo and pray this dealership will assist me to keep my current car (2015 Nissan Murano/86,000mi.) in tip-top shape as long as I continue to be able to drive! 😀 This was my first experience with this dealership's service department, inasmuch as I just moved to Pawley's Island, SC. From start to finish, everyone was courteous, knowledgeable and explained service in terms I understood; the wait-time was within reason, the waiting area and powder room were clean and well stocked. There was a TV but I met several other area customers and enjoyed conversations with them during my wait. I will most definitely return for continued service and highly recommend this dealership's service department.
Smooth and easy transaction everyone was super friendly
Brandon Mitchell was a great salesperson, very professional and the rest of the staff was fantastic, got me what I wanted and didn't take long to get everything done.
Great and friendly service. Ready on time!
Our Nissan Specialist, Jennifer, is always extremely helpful, straight-forward with business, and prompt. It is a pleasure working with her.
Braxton did an excellent job with customer service he answered all our questions and met all our needs Eddie was excellent at educating us on the extended coverage package appreciate him
The repair and maintenance were completed satisfactorily. However, there were grease marks on the driver door and console. We did tell Jennifer, who offered to have it cleaned, but we told her we would take care of it. By the way, Jennifer is a natural for customer service. Very pleasant, courteous, and informative. She deserves a raise!!
First time in. Had my oil and oil filter changed, tires rotated and a complete systems inspection. All was completed in a professional manner. I was in and out quickly. Compared to other Nissan dealerships I have used Coastal Nissan is by far the best service experience to date. Will definitely be a return customer.
Tyler Lewis is by far one of the best sales people I've ever worked with! He was extremely patient and above all, trustworthy! He sent me cars daily that fit the budget that I was looking for and was truly out to help me find a car that was best for me and my family, not just make a sale. I found some extremely pushy and downright scary salespeople when car shopping and Tyler was a refreshing reminder that there are still people who care in the industry! I can't recommend him enough!
Tyler Lewis took excellent care of us, from the moment we walked in, thru test drive, financing, he made the entire process a blessing we highly recommend him!
Typical great service on ever visit!
Great service, and the young lady that helped me can't remember her name was wonderful
I appreciated the courtesy ride from the service center to my home and back. The waiting area is comfortable and stocked with good beverages and snacks. The staff is very friendly and helpful. My repair could have been cost-prohibitive but thanks for the extra efforts of the staff, they were able to make the repair at a much lower cost. What could be better than that?
I came to Coastal Nissan to test drive a car that I found online. I spoke with salesman Brent Nihiser to coordinate a meeting and test drive. Unexpectedly, I had an early morning meeting pop up the day of our scheduled test drive. Brent agreed to come into the dealership early the next morning to work around my meeting schedule. Although I didn't purchase a car that day, Brent was extremely helpful, accommodating and easy to work with.
I'm giving 5 stars to my salesperson, Brent. I wasn't in the market for a new car but when I was there for service he convinced me that I might be. He's a super nice young man and not the typical pushy car salesman. I highly recommend him and the service department.at Coastal Nissan.
Brent was very helpful. Wasnt sure about the 1st car I looked at. I found another one I was possibly interested in. He brought the cars to where we were instead of me walking across the parking lot. After looking at both I was STILL undecided. He said to "take my time and decide, no hurry & no pressure on his part to choose a car." He wanted me to find the car that was "right" for me. I highly recommend him. I told him next time I need a car I will DEFINITELY come back to see him.
Real great car buying experience. Tyler Lewis helped me find the perfect vehicle for my family. Brandon and Eddie were great. They worked with me and made sure that the car I purchased fit my budget. I will definitely be back in the future. Never felt pressured to buy anything and all 3 gentlemen were extremely patient with me. Highly recommended.
This team was great to work with and very family oriented! This will definitely be a go to dealership for my next purchases! Not pushy yet very helpful showing you pros and cons and helping you make your decision. Brent was very helpful through the entire process with me! You can definitely tell they actually do care about their customers and not just selling you a car. Appreciate everything you all did for me and helped with!
I looked up the car online and when we got to the dealership it was spot on. I learned a lot from the website. Brandon Mitchell was very easy to work with on the sale. Everyone we dealt with was very helpful.
Welcome to


Coastal Nissan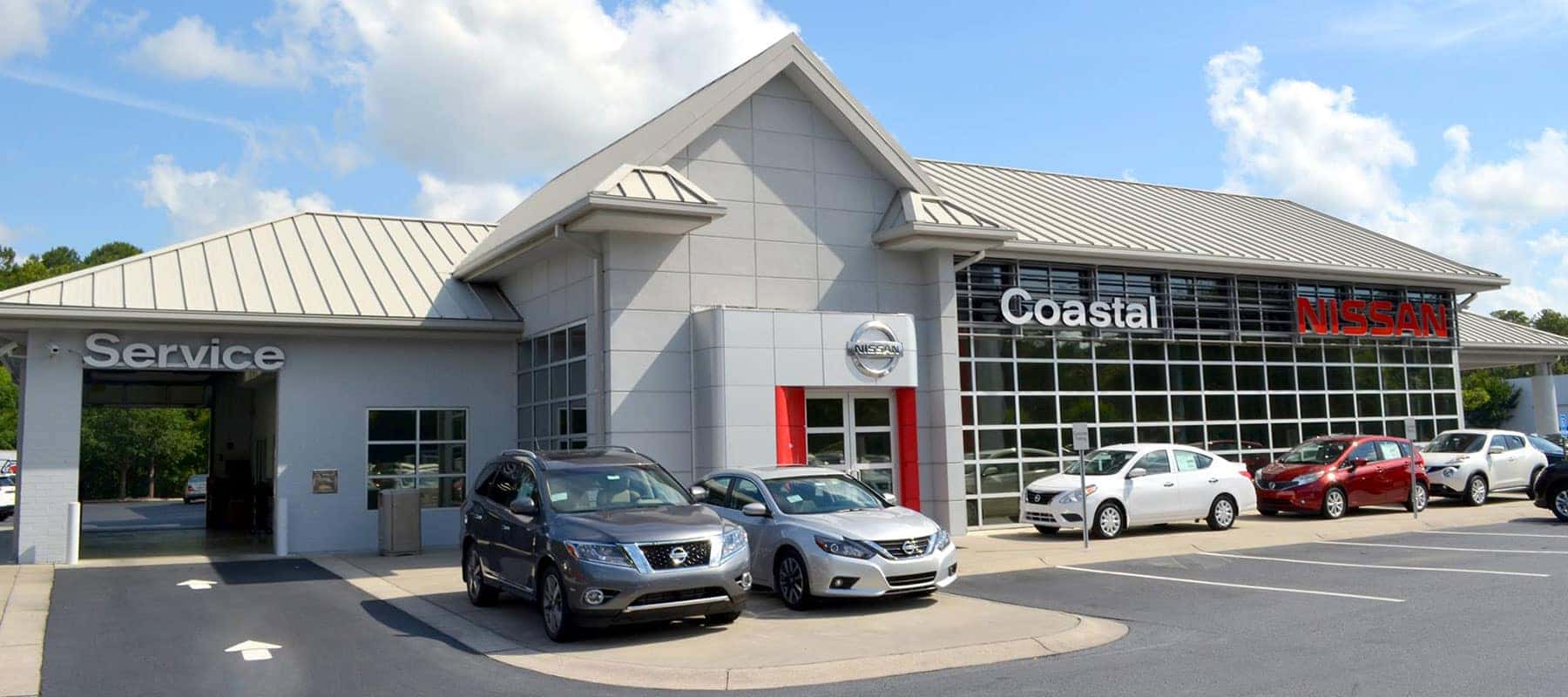 At Coastal Nissan it is our mission to provide everyone with the best experience that they have ever had at a dealership. Coastal is a third-generation family-owned dealership that's been serving the communities of Murrells Inlet, Georgetown, Pawleys Island, Myrtle Beach, Conway, and Surfside Beach for nearly 40 years. All of our team members put forth our Coastal Promise by embodying our core values and mission every day, we are not just your typical car dealer.
Coastal Nissan is the dealership you can count on for an exceptional experience when looking for your new, used, and certified pre-owned vehicle needs. Take the time to discover our extensive inventory of new and used vehicles. We have hundreds of vehicles to choose from and an award-winning service department with a pet-friendly facility that is ready to welcome you and your whole family.